NYC doesn't...
NYC doesn't really have to trumpet its greatness. When you get home you know you are in a very cool place.
Very glad to be back from the
The Brandos
Eurotour which was sorta daunting yet enjoyable for me. Daunting because
it was a very different musical experience for me. In my close to 30 years of playing professionally I've never been in the position of strictly filling in for another guitarist for a 2 hr show. The Brandos have very good, tough songs and needed
their parts replicated as close as possible for the tour. I did my best to do that and sing the high harmony parts too.
The Brandos have been doing the Euro thing for a while and they had the best van tour food coordination that I've ever
seen. We ate 3 hours before stage time every gig day. This is a huge thing. It is really hard to rock on a full stomach. It
is also really, really hard to convince Europeans that you don't want to have a long leisurely dinner before you have to jump
around and scream bloody murder. By nature Europeans want you to have a lovely dinner.
This is a dish from one of a bunch of great German meals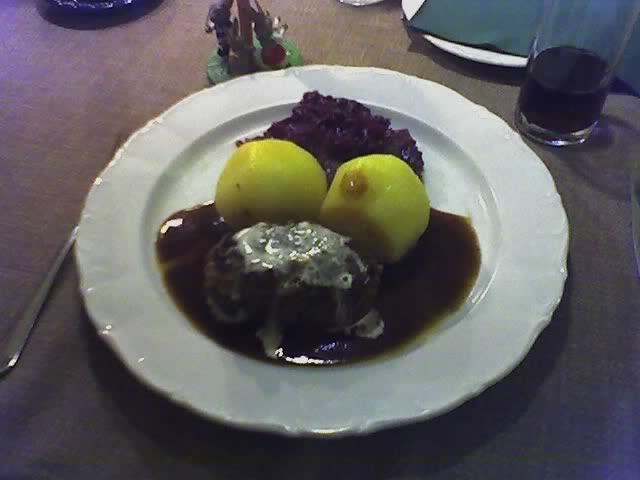 Those 2 large round things are kanödels. A kanödel is sort of related to gnocci. Potato pastalike. The meat cluster was a wrap of a lot of thin strips of beef. Sort of like beef bacon. Fantastic.
The Brandos also have great fans and a great crew helping them with their shows. Thanks to all for a great month.