Private Party
I first met Lou Whitney and D. Clinton Thompson at a Valentines Day gig at the old Peppermint Lounge on 5th Avenue in 1983. Those guys displayed a staggering combination of musicianship, record colector chops and humor. Their band was called the
Morells
Lou Whitney, who I'll quickly list as a guru, helped get the
Del-Lords
get signed and produced our debut album "Frontier Days". I learned too much stuff to list in a blog from Lou. Lou also produced my first solo record
Roscoe's Gang
. The Morells were the band on that record.
I could go on and on.... I used to visit Springfield, MO all the time to work with those guys or record or produce bands (like the Bottle Rockets & Blue Mountain) at Lou's Studio downtown.
Lou even helped me find both of my Suburbans.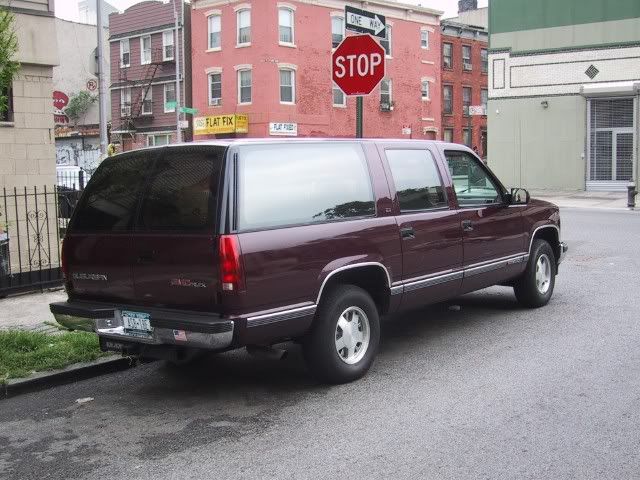 The Burgundy '93 2 wheel drive Tony Soprano model
So anydamnway.... Through a long convoluted chain of events I ended up in Cranston, Rhode Island last Saturday night playing a 40th birthday party for a very nice couple of music fans with the Skeletons as the band. The diff between the Skeletons and the Morells are the drummers. Both bands share Lou, Donny and Joe Terry. The Morells have Ron Gremp on the drums and the Skeletons have Bobby Lloyd Hicks on the drums.
I had a great time playing with those guys. Charlie Chesterman opened with a cool batch of songs then the Skeletons played their own set, then I played some of my songs with the Skeletons then held on for dear life trying to keep up with them on theirs.
Since opening my own
Studio
I don't get down to Springfield as much. Those guys are fantastic. I count them as heros and friends and sure was glad to see them. Thanks to Bob and Kristen for putting us together.