TdF isn't the only thing going on in July/New Studio-New Website
The Tour de France isn't the only thing going on in July but it has been a good
one and it is getting better. Today's stage in the Alps was pretty darn exciting.
Watched this morning live then watched the daily 5pm Race Replay again at the Lakeside
with 40 cycling fans who all got a kick out of watching Lance (yeah, we can
refer to him with one name) play 'team player' helping race leader/teamate
Alberto Contador.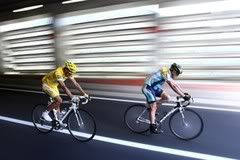 Lance leads Astana teammate and current TdF leader Contador through an Alpine snow tunnel at over 55 mph
Also this month I've been working on a new website for the new location of
Cowboy Technical Services
.
Check it out. I used iWeb and tried to keep it clean so you could read it on your phone if that happens
to be how you roll. We have a
CTS Recording Blog
on that site too. I've just started it but I'm gonna sorta rate
the our new favorite lunch spots.
Labels: Cowboy Technical, Happy Hour, Lakeside Lounge, Lance Armstrong