As the racers head in to Paris
I've had a great time watching this year's Tour de France.
Congrats to
Contador
on his victory (today's stage is mostly ceremonial)
Congrats to Lance for making the podium after 4 years off.
Thanks go out to Lance also for bringing so many fans to the race and
for all the money he's raised for his
Foundatio
n for Cancer Survivors.
Fun to watch the race in real time on TV in the morning with all the other race
fans following on the internet. And it has been a blast to present the 5pm
Race Replay for the bike pals at the
Lakeside Lounge
.
It was fun to watch Contador fly and to watch Lance use his head to
stay in the race but my favorite image from this tour has to be this
shot of the exhausted Russian racer Serguei Ivanov just after he had scored the first big stage win
of his entire career battling his way up the mountain on
Stage 14
.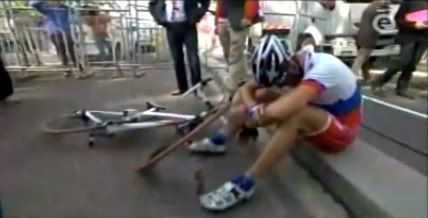 Labels: Alberto Contador, Lakeside Lounge, Lance Armstrong, Serguei Ivanov, Tour de France