Sure, go ahead and ride it.
Earlier this week my friends at
Sid's Bikes
in NYC snuck me into the industry only
Interbike East
Outdoor Demo
in Providence, RI. I got to ride a whole bunch of really fantastic 2010 model bikes around Roger Williams Park.
I snapped an iPhone pic of each bike that I rode.
The road loop was around 2 miles in a park and it had some hills, couple tight corners and one rough patch of road.
Great place to compare bikes. They had a Mountain Bike loop and Cyclocross loop also. Cyclocross race was held yesterday on that loop.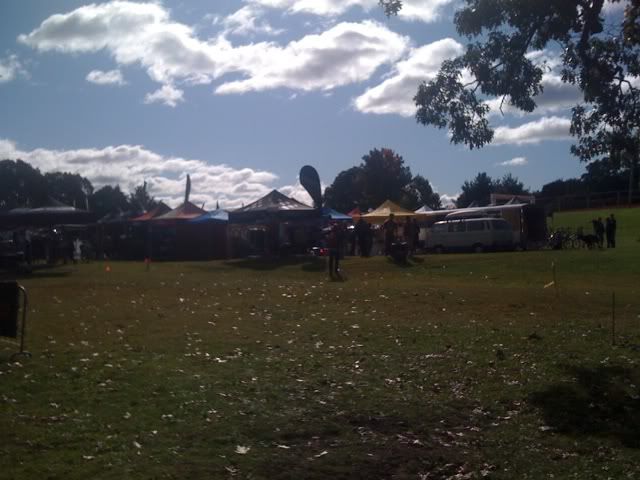 Moots RSL Titanium
Rocky Mountain Solo Team
BMC Pro Machine SLC01
Cannondale Six 105 bike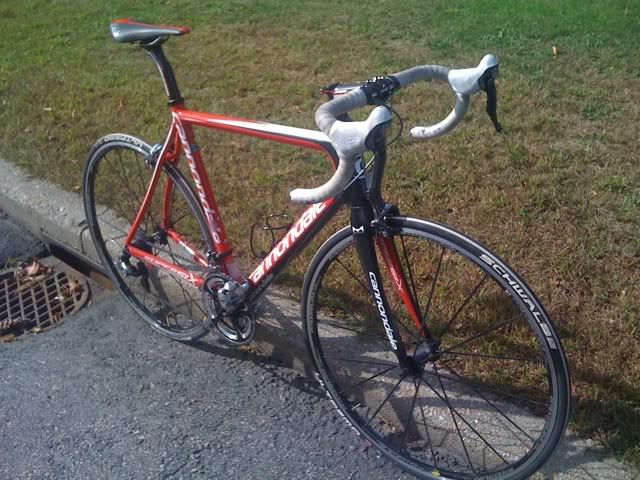 Cannondale Super Six Dura-Ace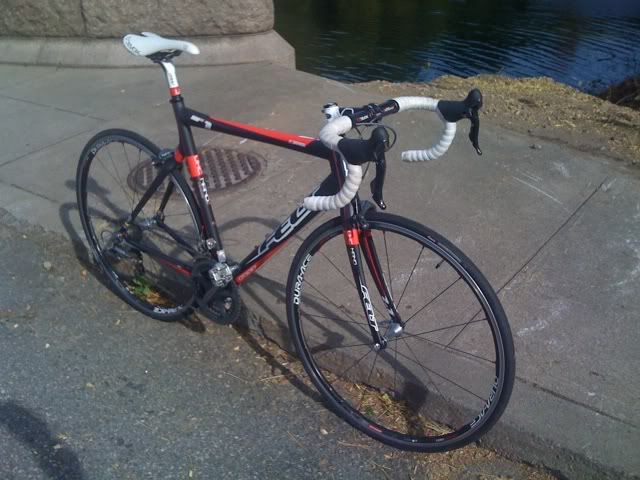 Felt F-1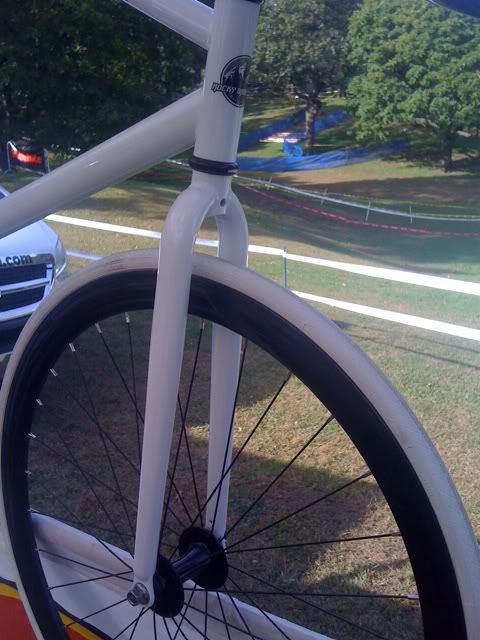 Rocky Mountain's new Buroughs unicrown track/fixed gear fork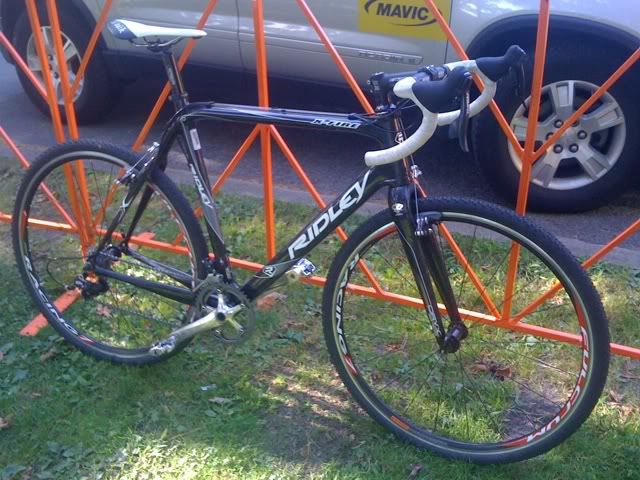 Ridley carbon Cyclocross bike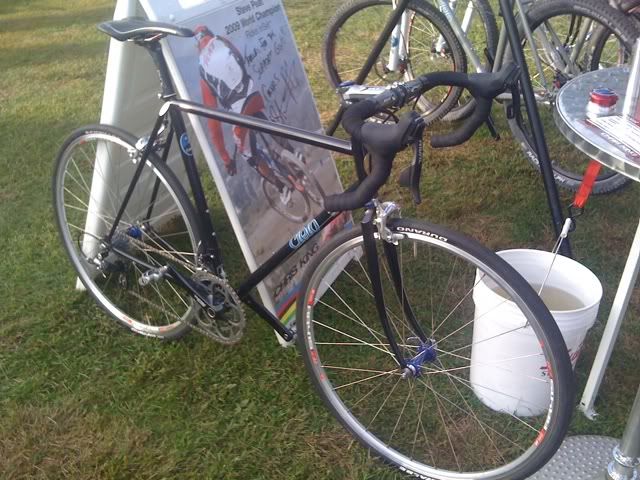 Chris King's Handmade Steel road bike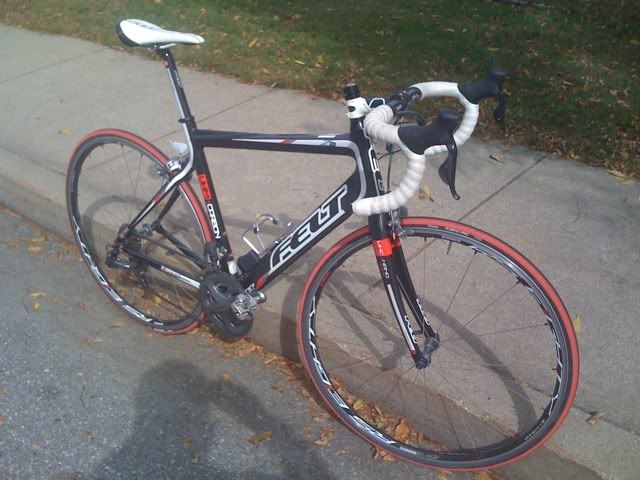 Felt Z-2 with the new D2 Dura-Ace electronic shifting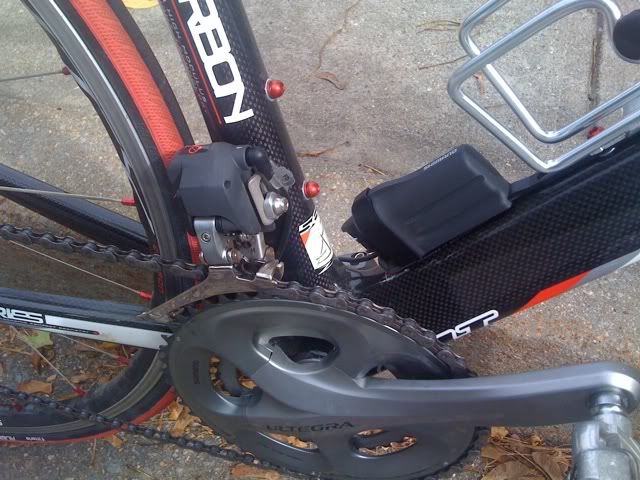 Close up on the D2 Electronics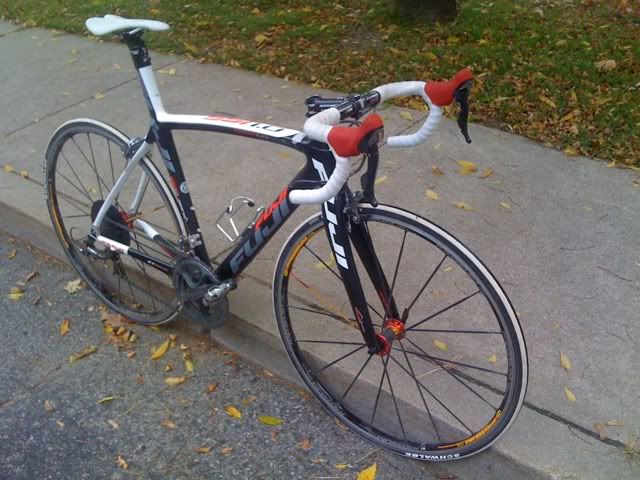 Fuji's '10 Team bike
All the vendors and mechanics were very cool. I brought my own pedals and knowing your seat height was handy for super quick setup.
The Moots was fantastic. It was my first time using SRAM which took all of 5 seconds to get completely used to.
It was probably a mistake to ride the Moots first cause it was incredible but there was nobody at their booth
and the bike beckoned.
DA D-2 electric was nuts. It just shifts immediately. Since it is almost a direct linkage to the derailleur I can't imagine it
going out of adjustment. You can hear the front derailleur mechanisim. The back just moves with the lightest tap.
I'd have to say the Cannondale Six was the nicest 105 level bike (Shimano's mid/low road component group) I've ever been on.
The Felts were mighty good too. F1 is their race bike. The Z2 has more of an 'all day' position but it still had plenty of pop.
The King bike was a blast to ride. It had the steel feel but it was not noodle-ey at all. It was a cool combo of the steel frame with modern stuff like threadless and outboard bearings. Also had 28's on it.
The BMC I rode was not the lightest bike but once you were on it the weight didn't seem to matter at all. It tracked really well.
I rode the Fuji to check out the seatmast thing. Seatmast has its problems. 1 is the difficulty in shipping the bike and the other
is selling it after you have cut the post. But the feel of a seatmast bike is completely different right away. It is definately a more
direct connection to the bike. Traditional clamp/seatpost setup has a lot of the engineering in making the clamp area
strong enough to work with the seatpost. Seatmast can be designed almost solely to work with the ride of the bike.
I didn't get any pics but BMC has a new concept that uses a quill like setup on the bottom of their new seatpost.
The lock is near the saddle and it is just one click turn to lock the post. The seatube has no clamp at all.
I'd never been on a Cyclocross bike before. Cyclocross is a wild thing. Read the
Cyclocross Wiki
. They had a great course set up for a race that was held there on Saturday.
The 'cross thing was ridiculously fun. Had a smile nailed across my face the whole time. I thought somebodys parents were gonna yell "Hey you god damn kids get offa my lawn"
I can see how a lot of people do Cyclocross single speed. A lot of short blasts of energy. Really cool.
I didn't ride a single mountain bike 'cause I don't want to like Mountain Biking and end up having to buy 3 more bikes.
Now I gotta get my head back into recording and ride up to the Javitz Center to the 2010
AES Show
The Auto Show of Pro Recording.
Labels: BMC, Cannondale, Cyclocross, Felt Bikes, Interbike, Moots, Providence RI, Rocky Mountain, Sid's Bikes