Last weekend UpState
Last weekend i took the band (for this weekend Kenny Soule and Rod Hohl) up to Andes, NY for
a gig at the
Andes Hotel
. We had a good time
there basking in the relaxation of no cell phone service whatsoever. I played with the Disciples of
Agriculture and
TANDY
and I was lucky
enough to have Rich from
Fourteen Feet
loan
me his fabulous
Dr Z MAZ 18 Jr
2 x 10"
combo amp to play with all the bands. On Friday afternoon I put together a new pedalboard based around
the
Pedaltrain Jr
. I love my little home made Don & Dewey Model but it was gettin' pretty ragged.
Here's a look at my Pedaltrain Jr. Version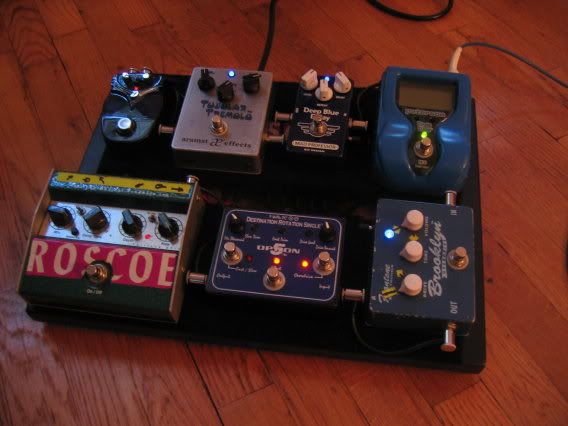 from R to L top row first.....
Peterson Strobo-Stomp
true bypass strobe tuner,
Mad Professor Deep Blue Delay
This delay simply sounds fantastic and is handmade by tone fanatics in Finland, The
Aramat Tubular Tremolo
was built by a lovely guy named Keith how recently lost his battle with brain cancer. It is a terrific sounding trem, the
Danelectro Black Licorice
is a whacky, crazy fuzz that goes an octave down,
the
Frantone Brooklyn Overdrive
has been one of my favorites for a long time. can't beat it with a class A amp , I recently got this
Option 5 Destonation Rotation Single
that does a really convincing Leslie rotating speaker sound complete with adjustable ramp up/down speed controls and the
Fulltone Choral/Flange
gives me a stereo out option and a luxurious wiggle. So good they are not making it anymore of course.
I tried to take my time and do a good job on the instal.
Here's a look at the bottom with the
Voodoo Labs Pedal Power
rig in there.
So on the way back we were on Rt 28 someplace and we stopped at a sort of country store/gas station. We ordered a bunch of food and I got the Chili. The guy said "Sit down, I'll bring it to you"
A few minutes later he showed up with this basket which looked pretty festive for a gas station. Had to check out the new
iPhone camera for its first food pic.